Next Episode: Being as Effective as you can in a Pandemic Scenario
Next Thursday, 23rd April at 11am 2021, CalQRisk Director of Risk Management and CTO, Gerard Joyce will deliver the latest in our series of Applied Risk Management webinars.
Whether you are a General Manager or a Risk Manager, now is a challenging time to be effective, when many (if not all) employees are working from home. In this webinar, we will take a look at some ideas to mitigate the impact of the pandemic and the lock-down. We will also look at some ways to improve communication and collaboration while working remotely.
Read this short article on our website for some pandemic risk mitigation ideas you can use today.
Recordings of these and other webinars can be accessed from the Resources section of our website here.
If you would like more information or a demonstration of CalQRisk GRC functionality, simply complete this form and a member of our team will contact you.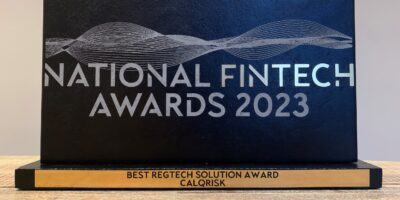 CalQRisk, a leading provider of Governance, Risk & Compliance solutions has won the 'Best Regtech Solution Award' at ...
Read More

→