At first glance, you might think Operational Resilience is just Business Continuity (BC) by another name, but there is a difference. Business Continuity focuses on the plan to deal with disruptions (usually severe) and ensuring the organisation can maintain essential services at pre-defined levels, within an acceptable timeframe. 
So what is the difference?
Operational Resilience is focused on outcomes. The organisation continues to deliver critical services through the disruption. This certainly requires good Business Continuity planning, but it also requires effective operational risk management where risks are identified, and measures are put in place to prevent undesirable events from happening in the first instance. It also requires the continuous monitoring of the environment/business context for changes that may require a corresponding change to a process/procedure. When disasters do happen, they are never exactly as expected, so Business Continuity plans have to be adapted. This ability to respond and adapt before, during and after an event is agility, the ability to see opportunities and threats and respond quickly. The most resilient organisations are agile. 
Business continuity and operational resilience go hand in hand and are important measures when implementing risk frameworks and strengthening the risk management processes in your business 
If you would like to know more about business continuity, operational resilience, risk management or governance as a whole, be sure to download our free Risk and Operational Resilience White Paper to gain insight into the topic and assess your own operational resilience.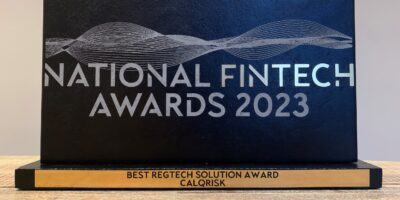 CalQRisk, a leading provider of Governance, Risk & Compliance solutions has won the 'Best Regtech Solution Award' at ...
Read More

→