In 2023, there are several cyber risks of which organisations and individuals should be aware. These risks can come in the form of new and emerging threats, as well as longstanding ones that continue to evolve.
Ransomware attacks – Ransomware attacks, in which hackers hold a victim's data hostage until a ransom is paid, have been on the rise in recent years. These attacks can be devastating for organisations, as they can result in lost data and revenue. In 2023, it is likely that we will see an increase in the sophistication and frequency of ransomware attacks. Recently, we've seen high-profile organisations such as The Guardian being targeted in ransomware attacks.
Phishing and social engineering – Phishing attacks, in which hackers send fake emails, text messages (and other forms of communication) to trick victims into revealing sensitive information or installing malware, will remain a significant threat. Likewise, social engineering attacks, which rely on manipulating human behaviour, will also continue to be a risk.
Cloud security – As more organisations move their data to the cloud, the risk of cloud security breaches will increase. Hackers will continue to target cloud systems in an attempt to access sensitive data, disrupt operations and gain notoriety.
Internet of Things (IoT) security – The increasing number of connected devices, known as the Internet of Things (IoT), presents new security challenges. These devices may be vulnerable to hacking and could be used to launch attacks on other systems.
Artificial intelligence (AI) and machine learning – As AI and machine learning become more prevalent, there is a risk that they could be used to launch sophisticated cyber attacks. For example, hackers have already used AI to automate the creation of phishing emails, bypass security systems and more.
To mitigate these risks, organisations should implement robust cybersecurity controls, including –
regular updates and patches
employee training on security best practices
the use of strong passwords and two-factor authentication
and much more.
For more information on how CalQRisk can be used for cybersecurity risk management, click here.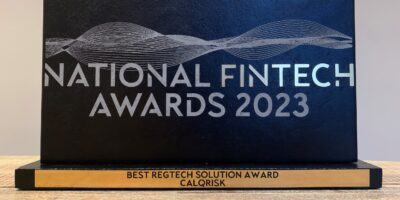 CalQRisk, a leading provider of Governance, Risk & Compliance solutions has won the 'Best Regtech Solution Award' at ...
Read More

→